The Jesus Fast - A Week With God
at Ebenezer Church of God, Landover Hills, Maryland, USA
with Bishop Oliver Subryan
Monday, Jan. 17th to Sunday, Jan. 23rd
· Realizing We have drifted from God (Mon.)
· Reexamining Our Motifs (Tues.)
· Releasing the bands of wickedness (Wed.)
· Removing the heavy burdens Thurs.)
· Rejecting the uncomfortable yoke (Fri.)
· Remembering the poor (Sat.)
· Receiving God's Blessings On My Life (Sun.)
The Jesus Fast - A Week With God
Text: Isa. 58:1-14
Monday
Realizing We are Not Where We Should Be In God
Cry aloud, spare not,
Lift up thy voice like a trumpet,
And shew my people their transgression,
And the house of Jacob their sins.
2 Yet they seek me daily,
And delight to know my ways,
As a nation that did righteousness,
And forsook not the ordinance of their God:
They ask of me the ordinances of justice;
They take delight in approaching to God.
Ezek. 3: 17 Son of man, I have made thee a watchman unto the house of Israel: therefore hear the word at my mouth, and give them warning from me
Tuesday
Reexamining Our Motifs
3 Wherefore have we fasted, say they, and thou seest not?
Wherefore have we afflicted our soul, and thou takest no knowledge?
Behold, in the day of your fast ye find pleasure,
And exact all your labours.
4 Behold, ye fast for strife and debate,
And to smite with the fist of wickedness:
Ye shall not fast as ye do this day,
To make your voice to be heard on high.
5 Is it such a fast that I have chosen?
A day for a man to afflict his soul?
Is it to bow down his head as a bulrush,
And to spread sackcloth and ashes under him?
Wilt thou call this a fast,
And an acceptable day to the Lord?
Wednesday
Releasing the bands of wickedness
6 Is not this the fast that I have chosen?
To loose the bands of wickedness,
Mark 7: 20 And he said, That which cometh out of the man, that defileth the man. 21 For from within, out of the heart of men, proceed evil thoughts, adulteries, fornications, murders, 22 Thefts, covetousness, wickedness, deceit, lasciviousness, an evil eye, blasphemy, pride, foolishness: 23 All these evil things come from within, and defile the man.
Job 28: 28 And unto man he said, Behold, the fear of the Lord, that is wisdom;
And to depart from evil is understanding.
Ps. 101: 4 A froward heart shall depart from me: I will not know a wicked person.
Thursday
Removing the heavy burdens
To undo the heavy burdens,
And to let the oppressed go free,
Friday
Rejecting the uncomfortable yoke
And that ye break every yoke?
Saturday
Remembering the poor
7 Is it not to deal thy bread to the hungry,
And that thou bring the poor that are cast out to thy house?
When thou seest the naked, that thou cover him;
And that thou hide not thyself from thine own flesh?
Sunday
Receiving God's Blessings On My Life.
8 Then shall thy light break forth as the morning,
And thine health shall spring forth speedily:
And thy righteousness shall go before thee;
The glory of the Lord shall be thy rereward.
9 Then shalt thou call, and the Lord shall answer;
Thou shalt cry, and he shall say, Here I am.
If thou take away from the midst of thee the yoke,
The putting forth of the finger, and speaking vanity;
10 And if thou draw out thy soul to the hungry,
And satisfy the afflicted soul;
Then shall thy light rise in obscurity,
And thy darkness be as the noonday:
11 And the Lord shall guide thee continually,
And satisfy thy soul in drought,
And make fat thy bones:
And thou shalt be like a watered garden,
And like a spring of water, whose waters fail not.
12 And they that shall be of thee shall build the old waste places:
Thou shalt raise up the foundations of many generations;
And thou shalt be called, The repairer of the breach,
The restorer of paths to dwell in.
13 If thou turn away thy foot from the sabbath,
From doing thy pleasure on my holy day;
And call the sabbath a delight,
The holy of the Lord, honourable;
And shalt honour him, not doing thine own ways,
Nor finding thine own pleasure, nor speaking thine own words:
14 Then shalt thou delight thyself in the Lord;
And I will cause thee to ride upon the high places of the earth,
And feed thee with the heritage of Jacob thy father:
For the mouth of the Lord hath spoken it.
Daniel Scriptures on fasting for 2011

Monday, Jan. 10th to Sunday, Jan. 17th

Daniel Fast For Spiritual Strength

at Ebenezer Church of God, Landover Hills, Maryland, USA with Bishop Oliver Subryan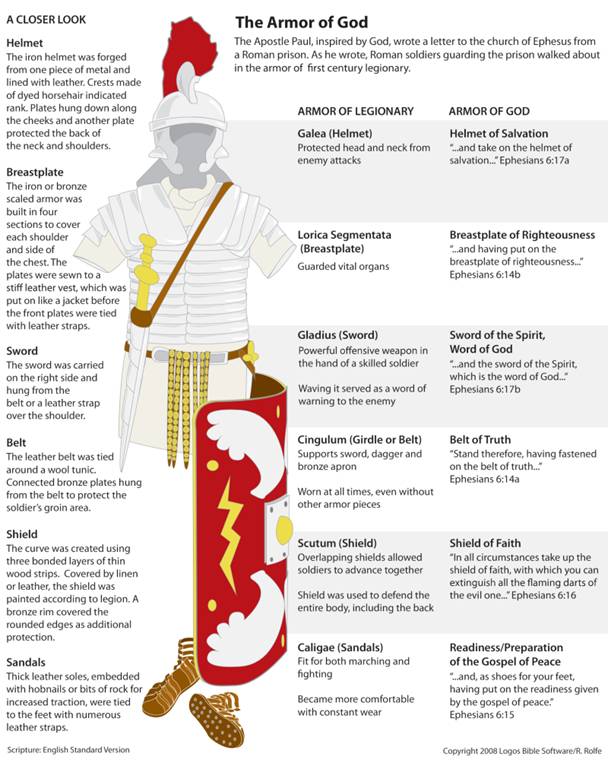 Eph. 6:10 Finally, my brethren, be strong in the Lord, and in the power of his might. 11 Put on the whole armour of God, that ye may be able to stand against the wiles of the devil. 12 For we wrestle not against flesh and blood, but against principalities, against powers, against the rulers of the darkness of this world, against spiritual wickedness in high places. 13 Wherefore take unto you the whole armour of God, that ye may be able to withstand in the evil day, and having done all, to stand. 14 Stand therefore, having your loins girt about with truth, and having on the breastplate of righteousness; 15 And your feet shod with the preparation of the gospel of peace; 16 Above all, taking the shield of faith, wherewith ye shall be able to quench all the fiery darts of the wicked. 17 And take the helmet of salvation, and the sword of the Spirit, which is the word of God: 18 Praying always with all prayer and supplication in the Spirit, and watching thereunto with all perseverance and supplication for all saints; 19 And for me, that utterance may be given unto me, that I may open my mouth boldly, to make known the mystery of the gospel, 20 For which I am an ambassador in bonds: that therein I may speak boldly, as I ought to speak.

II cor 10.

3For though we walk in the flesh, we do not war after the flesh: 4(For the weapons of our warfare are not carnal, but mighty through God to the pulling down of strong holds;) 5Casting down imaginations, and every high thing that exalteth itself against the knowledge of God, and bringing into captivity every thought to the obedience of Christ; 6And having in a readiness to revenge all disobedience, when your obedience is fulfilled.

•Monday - Truth (Belt of Truth),

Jn 18: 37 Pilate therefore said unto him, Art thou a king then? Jesus answered, Thou sayest that I am a king. To this end was I born, and for this cause came I into the world, that I should bear witness unto the truth. Every one that is of the truth heareth my voice. 38 Pilate saith unto him, What is truth? And when he had said this, he went out again unto the Jews, and saith unto them, I find in him no fault at all.

Jn 8:32 And ye shall know the truth, and the truth shall make you free.

Jn 14: 6 Jesus saith unto him, I am the way, the truth, and the life: no man cometh unto the Father, but by me.

Job 36: 4 For truly my words shall not be false:

He that is perfect in knowledge is with thee.

11 Cor 4: Therefore seeing we have this ministry, as we have received mercy, we faint not; 2 But have renounced the hidden things of dishonesty, not walking in craftiness, nor handling the word of God deceitfully; but by manifestation of the truth commending ourselves to every man's conscience in the sight of God.

Eph 4: 15 But speaking the truth in love, may grow up into him in all things, which is the head, even Christ:

• Tuesday - Righteousness (Breastplate of righteous),

I Tim 6: 11 But thou, O man of God, flee these things; and follow after righteousness, godliness, faith, love, patience, meekness. 12 Fight the good fight of faith, lay hold on eternal life, whereunto thou art also called, and hast professed a good profession before many witnesses.

ii Tim 2: 22 Flee also youthful lusts: but follow righteousness, faith, charity, peace, with them that call on the Lord out of a pure heart.

Col. 4:4 Masters, give unto your servants that which is just and equal; knowing that ye also have a Master in heaven.

Zeph. 2: 3 Seek ye the LORD, all ye meek of the earth,

Which have wrought his judgment;

Seek righteousness, seek meekness:

It may be ye shall be hid in the day of the LORD's anger.

Isa. 1: 16 Wash you, make you clean; put away the evil of your doings from before mine eyes; cease to do evil;

17 Learn to do well;

Seek judgment, relieve the oppressed,

Judge the fatherless, plead for the widow.

18 Come now, and let us reason together, saith the LORD:

Though your sins be as scarlet, they shall be as white as snow;

Though they be red like crimson, they shall be as wool.

I Jhn 3: 7 Little children, let no man deceive you: he that doeth righteousness is righteous, even as he is righteous.

• Wednesday - Peace (Sandals of peace),

Ps 34 14 Depart from evil, and do good;

Seek peace, and pursue it.

15 The eyes of the LORD are upon the righteous,

And his ears are open unto their cry

Rom 12: 8 If it be possible, as much as lieth in you, live peaceably with all men. 19 Dearly beloved, avenge not yourselves, but rather give place unto wrath: for it is written, Vengeance ismine; I will repay, saith the Lord. 20 Therefore if thine enemy hunger, feed him; if he thirst, give him drink: for in so doing thou shalt heap coals of fire on his head. 21 Be not overcome of evil, but overcome evil with good.

Heb. 12: 14 Follow peace with all men, and holiness, without which no man shall see the Lord: 15 Looking diligently lest any man fail of the grace of God; lest any root of bitterness springing up trouble you, and thereby many be defiled;

Mark 9: 50 Salt is good: but if the salt have lost his saltness, wherewith will ye season it? Have salt in yourselves, and have peace one with another.

•Thursday - Salvation (Helmet of salvation),

I tim 1: 15 This is a faithful saying, and worthy of all acceptation, that Christ Jesus came into the world to save sinners; of whom I am chief. 16 Howbeit for this cause I obtained mercy, that in me first Jesus Christ might shew forth all longsuffering, for a pattern to them which should hereafter believe on him to life everlasting.

Col. 1: 13 Who hath delivered us from the power of darkness, and hath translated us into the kingdom of his dear Son: 14 In whom we have redemption through his blood, even the forgiveness of sins:

Titus 3: 5 Not by works of righteousness which we have done, but according to his mercy he saved us, by the washing of regeneration, and renewing of the Holy Ghost; 6 Which he shed on us abundantly through Jesus Christ our Saviour; 7 That being justified by his grace, we should be made heirs according to the hope of eternal life.

• Friday - Faith (Shield of faith),

Ps. 42: 11 Why art thou cast down, O my soul? and why art thou disquieted within me?

Hope thou in God: for I shall yet praise him,

Who is the health of my countenance, and my God.

Heb. 6: 6 Therefore leaving the principles of the doctrine of Christ, let us go on unto perfection; not laying again the foundation of repentance from dead works, and of faith toward God,

Isa. 26: 4 Trust ye in the LORD for ever:

For in the LORD JEHOVAH is everlasting strength:

Mk. 11:22 And Jesus answering saith unto them, Have faith in God. 23 For verily I say unto you, That whosoever shall say unto this mountain, Be thou removed, and be thou cast into the sea; and shall not doubt in his heart, but shall believe that those things which he saith shall come to pass; he shall have whatsoever he saith. 24 Therefore I say unto you, What things soever ye desire, when ye pray, believe that ye receive them, and ye shall have them.

Ps. 62: 8 Trust in him at all times; ye people,

Pour out your heart before him:

God is a refuge for us. Selah.

Ps. 37: 3 Trust in the LORD, and do good;

So shalt thou dwell in the land, and verily thou shalt be fed.

4 Delight thyself also in the LORD;

And he shall give thee the desires of thine heart.

5 Commit thy way unto the LORD;

Trust also in him; and he shall bring it to pass.

6 And he shall bring forth thy righteousness as the light,

And thy judgment as the noonday.

Prov. 3: 5 Trust in the LORD with all thine heart;

And lean not unto thine own understanding.

6 In all thy ways acknowledge him,

And he shall direct thy paths.

•Saturday - Word of God (Sword of the Spirit)

Isa. 55: 11 So shall my word be that goeth forth out of my mouth:

It shall not return unto me void,

But it shall accomplish that which I please,

And it shall prosper in the thing whereto I sent it.

II Pet.3 :5 For this they willingly are ignorant of, that by the word of God the heavens were of old, and the earth standing out of the water and in the water

I pet. 1: 24 For all flesh is as grass, and all the glory of man as the flower of grass. The grass withereth, and the flower thereof falleth away: 25 But the word of the Lord endureth for ever. And this is the word which by the gospel is preached unto you.

Jer. 23: 29 Is not my word like as a fire? saith the LORD; and like a hammer that breaketh the rock in pieces? 30 Therefore, behold, I am against the prophets, saith the LORD, that steal my words every one from his neighbour. 31 Behold, I am against the prophets, saith the LORD, that use their tongues, and say, He saith. 32 Behold, I am against them that prophesy false dreams, saith the LORD, and do tell them, and cause my people to err by their lies, and by their lightness; yet I sent them not, nor commanded them: therefore they shall not profit this people at all, saith the LORD.

• Sunday - Prayer

Ps. 6: 9 The LORD hath heard my supplication;

The LORD will receive my prayer.

10 Let all mine enemies be ashamed and sore vexed:

Let them return and be ashamed suddenly

I peter 3: 12 For the eyes of the Lord are over the righteous, and his ears are open unto their prayers: but the face of the Lord is against them that do evil. 13 And who is he that will harm you, if ye be followers of that which is good?

Jn 16: Verily, verily, I say unto you, Whatsoever ye shall ask the Father in my name, he will give it you. 24 Hitherto have ye asked nothing in my name: ask, and ye shall receive, that your joy may be full.

Job 22: 27 Thou shalt make thy prayer unto him, and he shall hear thee,

And thou shalt pay thy vows

Jn. 14: 4 If ye shall ask any thing in my name, I will do it.

15 If ye love me, keep my commandments.

Ps . 91: 15 He shall call upon me, and I will answer him:

I will be with him in trouble;

I will deliver him, and honour him.

16 With long life will I satisfy him,

And shew him my salvation.

Matt. 7: 7 Ask, and it shall be given you; seek, and ye shall find; knock, and it shall be opened unto you: 8 For every one that asketh receiveth; and he that seeketh findeth; and to him that knocketh it shall be opened. 9 Or what man is there of you, whom if his son ask bread, will he give him a stone? 10 Or if he ask a fish, will he give him a serpent? 11 If ye then, being evil, know how to give good gifts unto your children, how much more shall your Father which is in heaven give good things to them that ask him?

Daniel Scriptures on fasting for 2011

Monday, Jan. 3rd to Friday, Jan. 7th

Daniel Fast - A week of Cleansing at Ebenezer Church of God, Landover Hills, Maryland, USA with Bishop Oliver Subryan

Monday - Fasting for the cleansing of the MIND

Mt 22:37-38

37 Jesus said unto him, Thou shalt love the Lord thy God with all thy heart, and with all thy soul, and with all thy mind.

38 This is the first and great commandment.

KJV

Ac 4:32

32 And the multitude of them that believed were of one heart and of one soul: neither said any of them that ought of the things which he possessed was his own; but they had all things common.

KJV

Ro 8:6-10

6 For to be carnally minded is death; but to be spiritually minded is life and peace.

7 Because the carnal mind is enmity against God: for it is not subject to the law of God, neither indeed can be.

8 So then they that are in the flesh cannot please God.

9 But ye are not in the flesh, but in the Spirit, if so be that the Spirit of God dwell in you. Now if any man have not the Spirit of Christ, he is none of his.

10 And if Christ be in you, the body is dead because of sin; but the Spirit is life because of righteousness.

KJV

Ro 12:2

2 And be not conformed to this world: but be ye transformed by the renewing of your mind, that ye may prove what is that good, and acceptable, and perfect, will of God.

KJV

1 Co 1:10

10 Now I beseech you, brethren, by the name of our Lord Jesus Christ, that ye all speak the same thing, and that there be no divisions among you; but that ye be perfectly joined together in the same mind and in the same judgment.

KJV

2 Co 13:11

11 Finally, brethren, farewell. Be perfect, be of good comfort, be of one mind, live in peace; and the God of love and peace shall be with you.

KJV

Tuesday - Fasting for the cleansing of the body

Da 1:8

8 But Daniel resolved not to defile himself with the royal food and wine, and he asked the chief official for permission not to defile himself this way.

NIV

Da 1:8

15 At the end of the ten days they looked healthier and better nourished than any of the young men who ate the royal food.

NIV

Ro 12:1-2

12 I beseech you therefore, brethren, by the mercies of God, that ye present your bodies a living sacrifice, holy, acceptable unto God, which is your reasonable service.

2 And be not conformed to this world: but be ye transformed by the renewing of your mind, that ye may prove what is that good, and acceptable, and perfect, will of God.

KJV

Ro 3:20

20 Therefore by the deeds of the law there shall no flesh be justified in his sight: for by the law is the knowledge of sin.

KJV

Ro 6:19

19 I speak after the manner of men because of the infirmity of your flesh: for as ye have yielded your members servants to uncleanness and to iniquity unto iniquity; even so now yield your members servants to righteousness unto holiness.

KJV

Ro 7:5

5 For when we were in the flesh, the motions of sins, which were by the law, did work in our members to bring forth fruit unto death.

KJV

Ro 7:18-25

18 For I know that in me (that is, in my flesh,) dwelleth no good thing: for to will is present with me; but how to perform that which is good I find not.

19 For the good that I would I do not: but the evil which I would not, that I do.

20 Now if I do that I would not, it is no more I that do it, but sin that dwelleth in me.

21 I find then a law, that, when I would do good, evil is present with me.

22 For I delight in the law of God after the inward man:

23 But I see another law in my members, warring against the law of my mind, and bringing me into captivity to the law of sin which is in my members.

24 O wretched man that I am! who shall deliver me from the body of this death?

25 I thank God through Jesus Christ our Lord. So then with the mind I myself serve the law of God; but with the flesh the law of sin.

KJV

Ro 8:1

8 There is therefore now no condemnation to them which are in Christ Jesus, who walk not after the flesh, but after the Spirit.

KJV

Ro 8:1-13

8 There is therefore now no condemnation to them which are in Christ Jesus, who walk not after the flesh, but after the Spirit.

2 For the law of the Spirit of life in Christ Jesus hath made me free from the law of sin and death.

3 For what the law could not do, in that it was weak through the flesh, God sending his own Son in the likeness of sinful flesh, and for sin, condemned sin in the flesh:

4 That the righteousness of the law might be fulfilled in us, who walk not after the flesh, but after the Spirit.

5 For they that are after the flesh do mind the things of the flesh; but they that are after the Spirit the things of the Spirit.

6 For to be carnally minded is death; but to be spiritually minded is life and peace.

7 Because the carnal mind is enmity against God: for it is not subject to the law of God, neither indeed can be.

8 So then they that are in the flesh cannot please God.

9 But ye are not in the flesh, but in the Spirit, if so be that the Spirit of God dwell in you. Now if any man have not the Spirit of Christ, he is none of his.

10 And if Christ be in you, the body is dead because of sin; but the Spirit is life because of righteousness.

11 But if the Spirit of him that raised up Jesus from the dead dwell in you, he that raised up Christ from the dead shall also quicken your mortal bodies by his Spirit that dwelleth in you.

12 Therefore, brethren, we are debtors, not to the flesh, to live after the flesh.

13 For if ye live after the flesh, ye shall die: but if ye through the Spirit do mortify the deeds of the body, ye shall live.

KJV

Ro 13:14

14 But put ye on the Lord Jesus Christ, and make not provision for the flesh, to fulfil the lusts thereof.

KJV

1 Jn 2:15-16

15 Love not the world, neither the things that are in the world. If any man love the world, the love of the Father is not in him.

16 For all that is in the world, the lust of the flesh, and the lust of the eyes, and the pride of life, is not of the Father, but is of the world.

KJV

Wednesday - Fasting for the cleansing of the SOUL

Mt 10:28

28 And fear not them which kill the body, but are not able to kill the soul: but rather fear him which is able to destroy both soul and body in hell.

KJV

Mt 16:26

26 For what is a man profited, if he shall gain the whole world, and lose his own soul? or what shall a man give in exchange for his soul?

KJV

1 Pe 2:11

11 Dearly beloved, I beseech you as strangers and pilgrims, abstain from fleshly lusts, which war against the soul;

KJV

Eze 18:4

4 Behold, all souls are mine; as the soul of the father, so also the soul of the son is mine: the soul that sinneth, it shall die.

KJV

Thursday - Fasting for clean, Godly hands

Ps 90:17

17 And let the beauty of the Lord our God be upon us: and establish thou the work of our hands upon us; yea, the work of our hands establish thou it.

KJV

Ps 18:24

24 The Lord has rewarded me according to my righteousness, according to the cleanness of my hands in his sight.

NIV

Ps 18:20

20 The Lord has dealt with me according to my righteousness; according to the cleanness of my hands he has rewarded me.

NIV

Ge 31:42

42 Except the God of my father, the God of Abraham, and the fear of Isaac, had been with me, surely thou hadst sent me away now empty. God hath seen mine affliction and the labour of my hands, and rebuked thee yesternight.

KJV

Lord, Please bless the work of my hands and let me use them to glorify You always

Friday - fasting for the cleansing of the intentions

Col 3:9

9 Do not lie to each other, since you have taken off your old self with its practices

NIV

Eph 5:6

6 Let no man deceive you with vain words: for because of these things cometh the wrath of God upon the children of disobedience.

KJV

Jas 5:12

12 But above all things, my brethren, swear not, neither by heaven, neither by the earth, neither by any other oath: but let your yea be yea; and your nay, nay; lest ye fall into condemnation.

KJV

Jas 5:12

12 Above all, my brothers, do not swear — not by heaven or by earth or by anything else. Let your "Yes" be yes, and your "No," no, or you will be condemned.

NIV