Welcome
"One People, One Nation, One Destiny."

HISTORY
Co-Chairmen Richard Jones, Jr., and Clifford C. Wong formed Friends of Guyana Athletics (FOGA) in the Spring of 2001. We wanted to form an association that would promote Guyanese athletes and provide communications between US-based Athletes and the AAA in Guyana.

April 2001, we got together and decided to create this association. We spoke to fellow Guyanese athletes, Guyanese officials, friends and our family for additional support and they thought was a wonderful idea.

In June 1st, 2001, we formally formed "Friends of Guyana Athletics" when we filed legal papers with the Internal Revenue Service.

We currently have the support of the Ambassador to the United States, Dr. Odeen Ishmael CCH, Mr. Claude Blackmore, President of AAA of Guyana, Renowed Guyanese Supportor, Dr. Owen A. Godette and many current internationally recognized Guyanese athletes such as Aliann Pompey (2000 Olympian) Marian Burnett (2002 NCAA 800m Champion) and Paul Tucker (1996 & 2000 Olympian).

In the future, we hope organize US-based athletes with domestic-based athletes to compete together on the international stage.

Year 2002, we hope to organize teams to compete at the Commonwealth Games and Central American & Caribbean Games.



Founding Members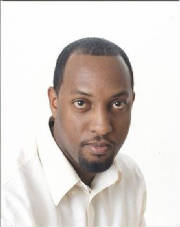 Clifford C. Wong
Co-Chairman/Organizer

I, Clifford Wong was born in Eversham Village on the Corentyne Coast in Berbice, Guyana. I moved to the United States in 1991 with my sister, Phyliss Vieoletta. I attended Forestville High School (Class of 1995) in Prince Georges County, Maryland where I started my track and field career. Graduated from Mount Saint Marys College (Class of 1999) in Emmitsburg, Maryland with a degree in Political Science. I was a four-year Scholar-athlete at the Mount. Currently, I am the Head Boys and Girls Track and Field Coach at George C. Marshall High School in Falls Church, Virginia. One of my proudest accomplishment was representing Guyana as a member of 1996 Atlanta Olympic Team. I'm married to Adebessi Charles and we have two daughters, Angelique Athena and Atria Alessa.
Richard Jones, Jr.
Co-Chairman/Organizer

I, Richard Jones was born in Brooklyn, New York and raised by two Guyanese parents. My dad had competed for Guyana in his career and earned a scholarship to college. Wanting to follow in my dads footsteps, I began running track in High school (A. Philip Randolph) I graduated in 1991 and attended The Ohio State University where I have 10 Big Ten Titles indoors and outdoors in the 400m, 4x100m, and 4x400m.I also have all american status all 4 years there winning the 4x400m at the National championships in 1993. I began competing for Guyana in 1995 and am proud to hold the national record for Guyana in 400m as well as be part of the national record 4x400m team. In 1996 Iwas also appointed captain of the Guyanese Olympic Team ,one of the proudest moments in my personal and athleticcareer.
I graduated in 1996 with a degree in communications/education. I am a volunteer coach at The Ohio State University and teach High School english.
Our Location
Friends Of Guyana Athletics
4037 34th Street
Mount Rainier, MD 20712
Attn: Clifford C. Wong
My name is Clifford C. Wong and behalf of my Co-chairman Richard Jones, Jr, I would like to take this time to welcome you to this groundbreaking non-profit association. Our association is dedicated to promoting and recognizing current and future stars of Guyana track and field. It also will serve as a source for updating and gathering of information on possible representatives for future Guyana Track and Field competitions.

The objective of Friends of Guyana Athletics is to ensure worthy athletes attain their athletic goals. The association primarily gathers information and promote Guyanese track and field (for now) athletes who wish to compete on the international level for Guyana. We've gathered information on nearly 50 athletes who are eligible to compete on the Senior and junior level.

We currently have these outstanding athletes willing to represent Guyana. Current 2002 Commonwealth Games 400m Champion, Sydney 2000 and Athens 2004 Olympian and 2001 World Indoor and Outdoor Semi-finalist, NCAA 500m and Guyana 200m & 400m Record holder Aliann Pompey, 2002 NCAA 800m Indoor and National 800m Recorder and 2004 Olympian Champion Marian Burnett, the Big Ten 2001 Conference Champion and NCAA 400m representative, Onica Fasier (Ohio State), Eastern Collegiate Association Conference 400m Champion, Guyana National 400m Record Holder Richard Jones, Jr and the former and current Guyana National 400m Hurdles record holders Paul Tucker.

Anyone interested in competing or knows of someone who wants to compete for Guyana please contact us. Also, anyone who is wishes to assist in the building of this association please contact me.
New National Record - Women's 4x400m - 3:45.08!!!!!!!!
- June 14th, 2008 @ Mommouth University, NJ
USATF-NJ Masters & Open Outdoor T&F Championship
Ashlynn DeCruise (56.2)
Aliann Pompey (52.5)
Angilla Corlette (56.5)
Ashley DeCruise (59.0)