Last Site Update!!!!
Friday, Sept 23rd - 11:19PM

Congratulations to Junior Sean Sanders earning Two (2) All-State Honors this past weekend at 6A VHSL championship. 5th in the 1600m (4:18.98) and 6th in the 800m (1:56.94).

Junior Haley Spoden finished 10th at the 6A State Championship in the 1600m, closing a season that included a Regional 3200m crown, 5:08.00 personal best and a leg on the Championship 4x400m relay team.

Sophomore Jada Patrick closed out an excellent first year finishing 15th in the Discus at the State Championship. She was crowned Discus champion, qualified for Regional in the shot put, 100m dash and 4x100m relay.

Junior Alexander Oliver finished 19th in the 200m dash at State Championship in a season that included a District Champion crown in the event (22.44), member of the regional 4x100m and 4x400m relay and PR 51.16 in the 400m dash.

Senior Emma Ford concluded an excellent Statesman career clearing 5ft on her final two competitions. In her career she won 3 District titles and 1 Regional crown. She was a captain and leader and will be missed.

Junior Christos Proctor became one of the faster in school history qualifying for the State championship in the 100m (11.16), big things in store next year.

Junior Sean Sanders ran 4:17.89 qualified for VA State Championship, nationals, Outdoor school record better the old mark of 4:18.63 at Cassel's XBC Track Experience 2022 April 30th, 2022.

Congratulations to junior Sean Sanders, All-State Honors placing 6th in the 1600m run in 4:20.89, fastest 1600m ever on an indoors track in school history with Coach General and Coach Haugh.

New School Record and State Championship Qualifier. Boy's 4x200m relay team finished 4th at Regional Championship setting a new school of 1:33.39. The team of Lewis (22), Ryder (23), Sandall (23) and Oliver (23).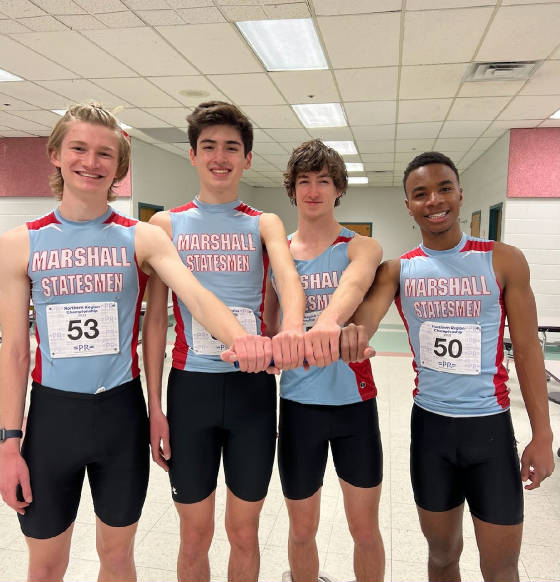 Junior Sean Sanders finished 3rd and auto State Championship Qualifier in the 1000m run - 2:34.54 will also compete in the 1600m at the State Championship.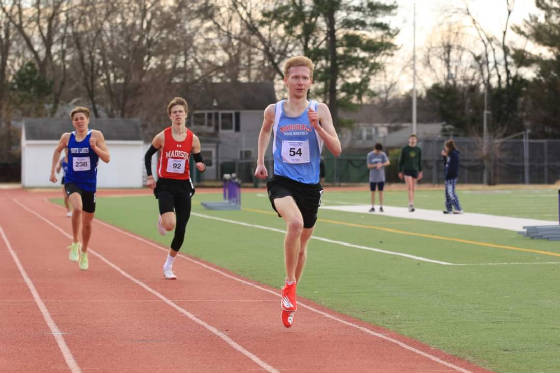 Junior Haley Spoden finished 3rd in a new personal best and automatic State Championship in the 1600m run.

Liberty District Girl's 4x200m Champion - Girl's 4x200m – 1:53:96 - Torrie McNabb (22), Allie Fravel (25), Emma Ford (22), Allison Gardner(24)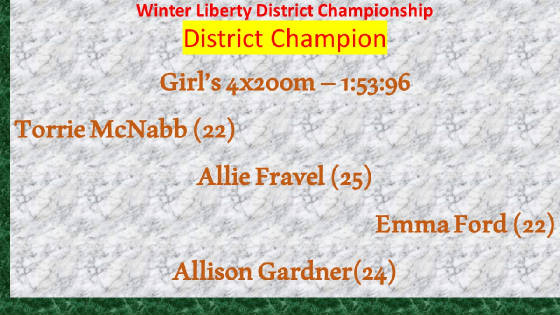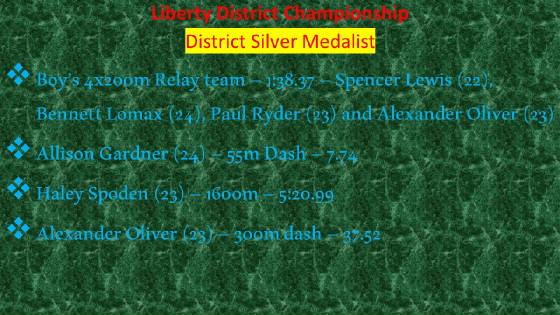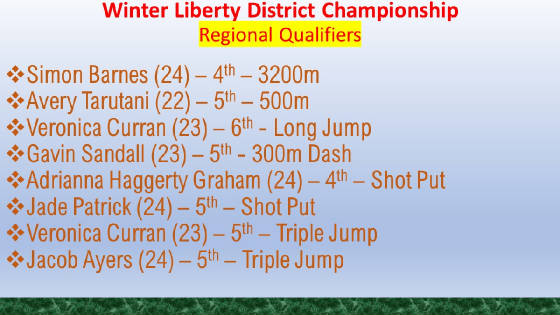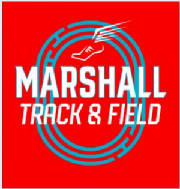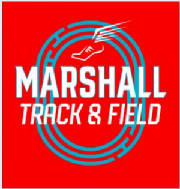 Boy's Team dominated from start to finish to win the 4x800m Relay Title - Northern Regional Championship
Junior Torri McNabb wins her heat Northern Regional 55m Hurdles and qualifies for the State Championship.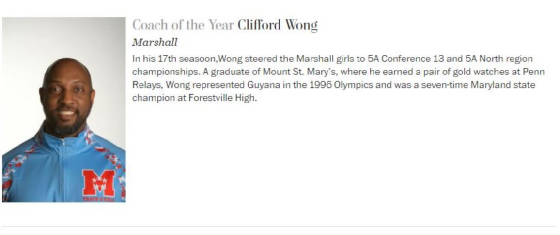 To view results and pictures and news from the last seasons please go to our Archives Page
LEAVE A LEGACY - my favorite part of video - get the message - Leave a legacy - it cannot be changed. Time can go by - others might come whose better than you but if you make history and leave it on the track - nothing will or can ever change the record for 2015 - 2016 Season.