Marshall T&F - Sat. April 1st
Legard Relays - Information
Meet Location: W.T. Woodson HS
Address: 9525 Main St. Fairfax, VA 22031

Buses: We have 1 buses - leaving at 7:30PM from the Kiss and Ride - Door#4

End Time: The meet is expected to end after 4:30PM

Meet Start time: Field Events at 9:30AM & Running Events at 9:30AM

Notes:

*Anyone driving or riding to the meet can just go straight to the meet and get there by 8:30AM.

*Weather is expected to be in the 50S

*Any athletes whose driving to the meet - please let me know. Athletes can leave with their parents after they are finish competing but they needs to sign out with the coaches.

*If, you do not get there at 5PM for field events - no worries - they will make sure you get your jumps and Throws in. I will make sure they don't start the high jump before everyone get there.

*if things have changed and you CANNOT make the meet - I need to know ASAP.

*Anyone who interested in running - we can try and get you on one of the relays - if we can - so let me know.

*I will post the spring break practice schedule on Sunday. If, not - we will post workouts in schoology for you to complete.

2023 Legard Relays
Estimated Time Schedule

9:00 a.m. - Coaches Meeting at the finish line
9:30 a.m. - Field Events
Boys and Girls Long Jump followed by Boys and Girls Triple Jump
Boys Discus Throw followed by Girls Discus
Girls Shot Put followed by Boys Shot Put
Boys High Jump followed by Girls High Jump
Girls Pole Vault followed by Boys Pole Vault
• Boys will have a 30 minute warm-up as needed after the conclusion
of the girls pole vault.

9:30 a.m. - Running Events
9:30 AM 4x1600 Meter Relay
10:25 AM 100m/110m Hurdle Relay (two hurdlers - times will be combined
11:00 AM Swedish Relay (100-200-300-400m)
11:25 AM 4 x 800 Meter Relay
12:15 PM 4 x 200 Meter Relay
1:00 PM 8th grade 100 Meter Dash *#
1:05 PM 8th grade 1600 Meter Run *#
1:20 PM 4 x 100 Meter Relay
1:55 PM 9/10th Grade 1600 Meter Run *
2:50 PM Sprint Medley (100-100-200-400)
3:45 PM Distance Medley Relay (1200-400-800-1600)
4:30 PM Co-ed Clydesdale Relay 4x100m - Throwers only - girl, girl, boy, boy
4:40 PM 9/10th Grade 4 x 400 Meter Relay *
5:25 PM 4 x 400 Meter Relay
Remember: We are still doing our letter campaign. Right now are at $750 of $15,000. If, we can get everyone to raise $100 - we would be able to reach out goals. You do not have to donate directly but can you please keep sharing it on your social media or email it to friends and family? We would appreciate it.

Once again, we are doing our letter campaign - we have to pay for all the invitational meets and we still need to purchase hurdles, and blocks and add more uniforms. So, please support the fundraiser, at a minimum please share it on your social media and with your friends and family. Remember all funds donated to the Boosters and school is 100% Tax Deductible.

Please see the link below -
2023 Marshall HS Spring Track & Field Challenge
Last Site Update!!!!
Sunday, March. 20th, 2023 - 12:59AM
Marshall T&F - Regional Championship Summary - Spoden & Oliver wins Regional Crown

Regional Championship Summary

When you have the heart of a champion nothing can stop you from achieving greatness - Senior Haley Spoden and Seth Oliver are the true definition of champions who will not be denied greatness.

Like in the spring of last year, Spoden jumped into the 3200m for fun and when it was over - she was the Northern Regional champion in the event. This year it was repeated as she lead wire to wire to claim the title in a new personal best and state qualifier.

Oliver started off the season winning the 3200m and would go undefeated the rest of the season including winning the Liberty District title in runway fashion. The regional championship race was not going to be another running away with a quality field. Running with the top 3 for most of the race and going into the final lap - the Yorktown running threatened to end his streak. However, with 100 meters to go, Seth saw daylight and decide today wasn't the day he was going to lose. Letting off a final big kick, Oliver would catch the Yorktown runner at the line and keep his streak intact.

Senior Sean Sanders only had one record left to chase and this meet would be his best shot to get it. The 1000m record was tough because it is usually run after the 1600m run - but this time - Sanders would run it fresh, leading for most of the race. The goal was right there to be achieved. With two laps to go he was joined by a runner by Oakton and the chase as on, with a final push, Sanders had done it, broke the final indoor record he wanted to get. Now he is the owner of school records in the 4x800m, 800m, 1000m, and 1600m to go along with his outdoors 4x800m and 1600m records. I'm sure he will be going after the outdoor 800m records too in the spring.

Senior Alexander Oliver's hard work put him in place to have choices when it came to the regional championship - he could run the 4x200m, 500m, 300m, and 4x400m. He anchored the 4x200m to an automatic qualifier in the first meet to the State championship - so he didn't need to run that event, the 300m was going to be hard on a flat track and the 4x400m was at the end. But being the leader that he is - AJ choose the harder event and decided to put his heart all into it. Running his fast section - he found himself with the lead with a lap to go and still running smooth. He held his composure and finish strong to the line and when it was over - he had run the 3rd fastest time in school history, better his personal best by over 1 second, and qualified for the state championship.

Senior Christos Proctor seems to never have it easy and everything he wanted it required a fight and battle. He broke the school record earlier in the 55m dash at his first meet at PG Sportplex and here was again need another performance closer to that to qualify for the State championship. Qualification did not go as planned, Proctor came in the meet ranked 2nd and was the last qualifier into the finals in 8th and forgotten man on the outside and nursed a little pain in his leg. Speaking to the coach and his dad - all he was asked to was execute just once and then he can get rest and get healthy for the state championship. Like a champion and Christos pushed out the blocks in the lonely outside lane and sped to the lead and kept pushing when the results were posted he had taken 3rd and was close to his school record performance (6.70 to 6.67).

The 4x800m relay team easily won the District title and the only thing left for them to was secure their automatic qualifier for the state championship but missed it by 0.12 (8:15.61 to 8:15.73). So, the mission was moved to the Regional championship and the team was in the fight from start to finish. Seth Oliver lead off the season and put right in the thick of things, the battle would continue with Senior Luke Hanzlik ran hard and kept the fight going, Senior Nawfal Elwannas kept the team pushing and on target and Senior Sean Sanders would take to the anchor with the goal within reach. Sanders would close out the relay and this time they better the qualifier by over 4 seconds for the State championship.

Junior Adrianna Haggerty Graham has been doing double duty as the manager on the 19 -3 men's basketball team while being one of the best shot putters in the region. She lived up to the hype putting together a great series of throws to set a personal best and placed her highest finish in the regional champ just missing the state champs by one spot.

Senior Graham Peterson, Veronica Curran, and Gavin Sandall probably competed in his last indoor meet as Statesmen - thank you for your leadership, dedication, and commitment.

Congratulations to these athletes competing at the State Championship - on Feb. 24th and Feb. 25th in Virginia Beach, VA. Only these athletes will continue to practice next week.

Name
Anis, Neil (24)
Bhalla, Krish (24)
Buckley, Reid (23)
Church, Henry (23)
Elwannas, Nawfal (23)
Hanzlik, Luke (23)
Lee, Samuel (23)
Lomax, Bennett (24)
McCarthy, Aidan (24)
Moore, Ethan (24)
Oliver, Alexander (23)
Oliver, Seth (23)
Proctor, Christos (23)
Sandall, Gavin (23)
Sanders, Sean (23)
Spoden, Haley (23)
Zarandazchi, Shervin (23)
Statesmen in the running for Liberty District Championship title.

The 2022- 2023 Liberty District Championship will be held at Prince George's Sports and Learning complex along with the Concorde District on Thursday, February 2nd, and Friday, February 3rd. Based on the seeding performances going into the meet, the Marshall Statesmen is in the running along with Washington-Liberty HS to win the Boy's team title.

The Statemen will be led by a Quartet of Seniors mainly on the track in the distance and sprint discipline.

Senior Sean Sanders is ranked #1 in all three of his races with the fastest time in the 1600m and 1000m and is a member of the 4x800m relay team. Fellow distance runner and Senior Seth Oliver is #1 in two (3200m, 4x800m) of three races with 2nd only to his teammate in the 1600m.

Senior Christos Proctor returns to the track where he set a school record in the 55m dash (6.67) and is ranked #2 in the event and a member of the #1 ranked 4x200m school record team. Senior Alexander Oliver (not related to Seth) will look to pull off another District title as he is entered in the 300m and 500m and 4x400m relay.

With all the action on the track, the title might actually come down to Senior Graham Peterson moving up in the Boy's Shot put as Washington-Liberty currently outscoring the Statesmen 52 - 2 in the field events. It really going to take a team effort to win the title, scoring one point here and another point there by athletes such as Senior Gavin Sandall (300m, 500m), Junior Krish Bhalla (55m, 300m), Junior Simon Barnes (3200m) or Senior Nawfal Elwannas (1000m).

On the women's side, Senior Haley Spoden is posed to have a great championship to close out her District career with some historical performances in the last few weeks. She had moved up the rankings in the 1600m, Mile, and 1000m and put the 4x800m relay team to win the event. Freshman Samantha Dabich looking to be the next rising star based on her top 6 ranking in the 500m and 1000m and Sophomore Amelia Shoemaker has been tearing up the track in the last few weeks in the 3200m and 1600m.

Senior Veronica Curran is the hardest working woman on the team as she is entered in the long and Triple jump, 300m dash, and potentially two relay team duties. Junior Allison Gardner is ranked #3 in the 55m dash and will run both the 4x200m and 4x400m.

In the girl's shot put - all three junior class ladies have the chance of making it to the regional championship led by Adrianna Haggerty Graham, Jada Patrick (55m and 4x200), and Daniela Garcia Palencia.


Name
Ahmed, Merziya (26)
Alaydrus, Lylana (24)
Bae, Anna (26)
Brewer, Sadie (26)
Chase, Carolyne (23)
Curran, Veronica (23)
Dabich, Samantha (26)
Ephraim, Eden (26)
Eric, Miracle (23)
Garcia Palencia, Daniela (24)
Gardner, Allison (24)
Haggerty Graham, Adrianna (24)
Heffernan, Zoe (25)
Lang, Maya (25)
Lauber, Samantha (24)
Oluwehinmi, Oluwatoni (25)
Parish, Sydney (25)
Patrick, Jada (24)
Ramirez, Valeria (25)
Shoemaker, Amelia (25)
Skaggs, Sarah (23)
Spoden, Haley (23)
Stefanova, Naomi (26)
Streett, Georgia (26)

Name
Anis, Neil (24)
Barnes, Simon (24)
Bhalla, Krish (24)
Buckley, Reid (23)
Church, Henry (23)
Elwannas, Nawfal (23)
Estep, Nathan (24)
Estrada Zapata, Samuel (24)
Hanzlik, Luke (23)
Lee, Curtis (23)
Lee, Samuel (23)
Lim, Daniel (25)
Lomax, Bennett (24)
Mathews, Brent (23)
McCarthy, Aidan (24)
Moore, Ethan (24)
Oliver, Alexander (23)
Oliver, Seth (23)
Owino, George (26)
Penix, Jaime (23)
Perrault, Adam (23)
Peterson, Graham (23)
Pho, Hong-An (25)
Proctor, Christos (23)
Sandall, Gavin (23)
Sanders, Sean (23)
Tadlock, Conner (23)
Taranov, Alek (23)
Tillman, Hayden (23)
Vaidya, Vedansh (23)
Zarandazchi, Shervin (23)

Congratulations to Junior Sean Sanders earning Two (2) All-State Honors this past weekend at 6A VHSL championship. 5th in the 1600m (4:18.98) and 6th in the 800m (1:56.94).
Junior Haley Spoden finished 10th at the 6A State Championship in the 1600m, closing a season that included a Regional 3200m crown, 5:08.00 personal best and a leg on the Championship 4x400m relay team.
Sophomore Jada Patrick closed out an excellent first year finishing 15th in the Discus at the State Championship. She was crowned Discus champion, qualified for Regional in the shot put, 100m dash and 4x100m relay.
Junior Alexander Oliver finished 19th in the 200m dash at State Championship in a season that included a District Champion crown in the event (22.44), member of the regional 4x100m and 4x400m relay and PR 51.16 in the 400m dash.
Senior Emma Ford concluded an excellent Statesman career clearing 5ft on her final two competitions. In her career she won 3 District titles and 1 Regional crown. She was a captain and leader and will be missed.
Junior Christos Proctor became one of the faster in school history qualifying for the State championship in the 100m (11.16), big things in store next year.
Junior Sean Sanders ran 4:17.89 qualified for VA State Championship, nationals, Outdoor school record better the old mark of 4:18.63 at Cassel's XBC Track Experience 2022 April 30th, 2022.
Congratulations to junior Sean Sanders, All-State Honors placing 6th in the 1600m run in 4:20.89, fastest 1600m ever on an indoors track in school history with Coach General and Coach Haugh.
New School Record and State Championship Qualifier. Boy's 4x200m relay team finished 4th at Regional Championship setting a new school of 1:33.39. The team of Lewis (22), Ryder (23), Sandall (23) and Oliver (23).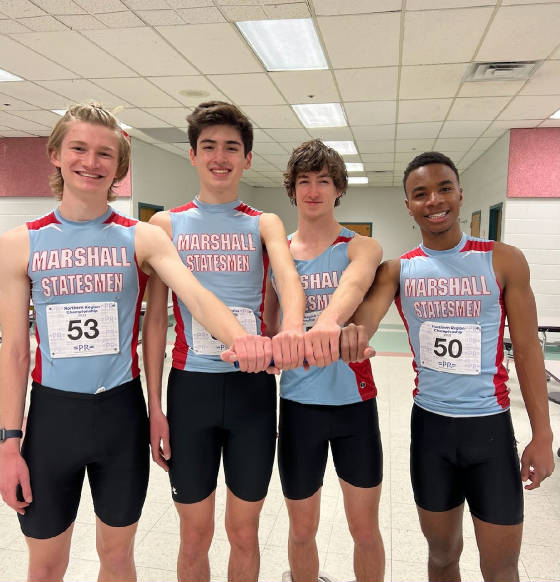 Junior Sean Sanders finished 3rd and auto State Championship Qualifier in the 1000m run - 2:34.54 will also compete in the 1600m at the State Championship.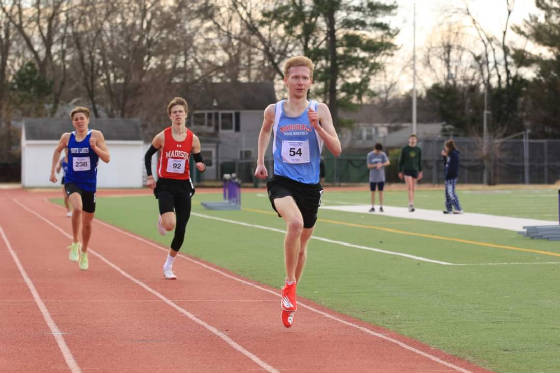 Junior Haley Spoden finished 3rd in a new personal best and automatic State Championship in the 1600m run.
Liberty District Girl's 4x200m Champion - Girl's 4x200m – 1:53:96 - Torrie McNabb (22), Allie Fravel (25), Emma Ford (22), Allison Gardner(24)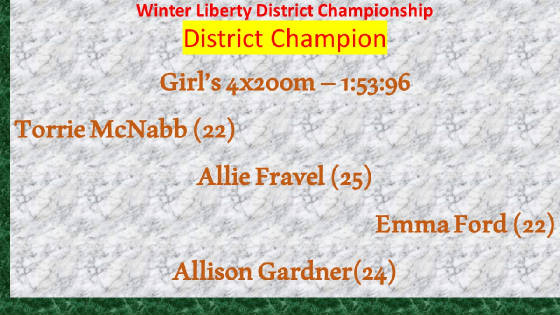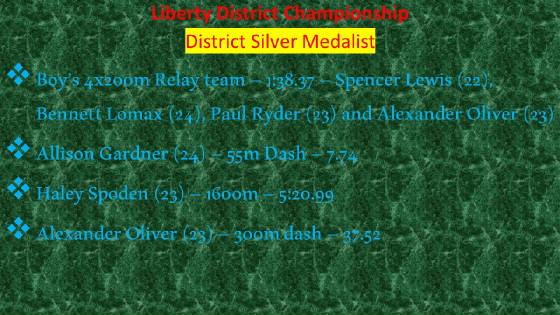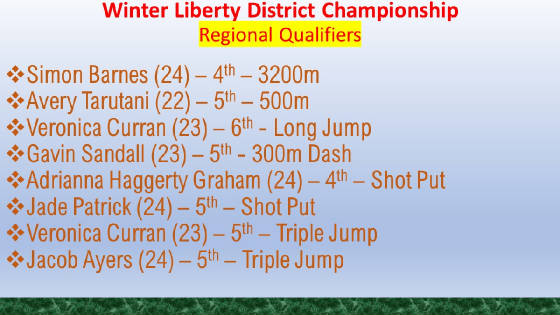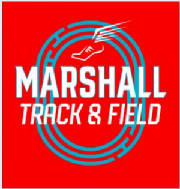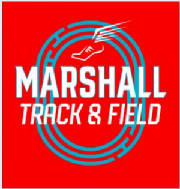 Boy's Team dominated from start to finish to win the 4x800m Relay Title - Northern Regional Championship
Junior Torri McNabb wins her heat Northern Regional 55m Hurdles and qualifies for the State Championship.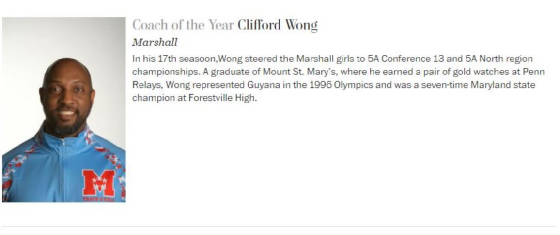 To view results and pictures and news from the last seasons please go to our Archives Page
LEAVE A LEGACY - my favorite part of video - get the message - Leave a legacy - it cannot be changed. Time can go by - others might come whose better than you but if you make history and leave it on the track - nothing will or can ever change the record for 2015 - 2016 Season.